Pete Anderson 
Broker - Owner
Realtor Emeritus 

Monyica Anderson
Administration

Debbie Ragsdale
Realtor

Renee Fleissner
Realtor 

Doug Graber
Realtor 

Jaime Layne
Realtor
Buying a Home in Huntsville Alabama
Published
January 14, 2013
If you are considering buying a home in Huntsville Alabama, more than likely, you will need a home loan to pay for that home. And since you will be asking for a great deal of money and embarking on the probably one of the largest financial investments you will make in your lifetime, you should be aware of any factors that might affect your Huntsville Alabama home loan approval.  
Your Huntsville Alabama Credit Report
Your credit report is one of the most important factors to consider when seeking a mortgage so it's a good idea to obtain a copy of your credit report from each of the three main credit bureaus, including: TransUnion , Experian  and Equifax.
Your FICO score, developed by Fair Isaac & Company, is widely accepted by lenders that determines eligibility as well as specific amounts, rates and terms that can be offered for a Huntsville Alabama home loan approval.  A FICO Score considers both positive and negative information in your credit report. Late payments will lower your FICO Score, but establishing or re-establishing a good track record of making payments on time will raise your score.
How a FICO Score Breaks Down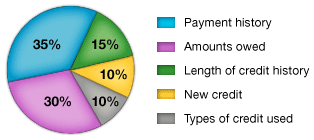 FICO scores range from 300-850.  The higher your FICO score, the less risk involved in lending to you and there are approximately 30 factors that influence your credit rating. Some of these factors, such as your payment history, weigh more heavily on eligibility than others. 
Every factor's importance varies from person to person and can change individually as your credit history lengthens.  Your credit score can also change daily as new credit is established or credit is paid down/off.
In most cases, each of the 3 main credit bureaus will have different information on file, so make sure there are no discrepancies or errors that could be detrimental.  It is estimated that 40% of credit reports do contain errors, and if you are one of those people, your Huntsville Alabama home loan approval could be in jeopardy through no fault of your own.  
Our Huntsville Alabama real estate industry experience and attention to detail on closing homes in this market gives you the tools to make your transaction smooth and successful.  We look forward to demonstrating our results to you!  
Huntsville Alabama Real Estate Experts
Huntsville offers a wide variety of new and resale properties.  Homes range from one and two-story homes, gated communities, condominiums, townhomes, golf homes, equestrian properties, luxury real estate and properties with views.
Read more about Huntsville Alabama …..
Whether you are  considering buying a home in Huntsville Alabama or selling your existing home, our goal is to provide you with expert advice and exceptional customer service every step of the way. 
As a home buyer, we will listen to your needs and desires and assist you in finding the perfect home in the right neighborhood to fit for your lifestyle and needs.  Use our extensive Huntsville Alabama real estate industry expertise to alleviate your stress and make your home search a pleasant one. 
Click here for FREE personalized assistance!
As a home seller, expect nothing less than personalized service including a detailed consultation that competitively positions your home in today's market. The consultation will include an in-depth Comparative Market Analysis (CMA). Our goal is to get your Huntsville Alabama real estate in front of as many people as possible and get it sold as quickly as possible!
As an investor, we also have several services available in the preparation for the sale of REO'S and Short Sale properties. This includes a variety of professional sub-contractors who can do whatever is needed to prepare the property for sale. Once the property is ready, we can also help you with your unique marketing needs.  
Search Huntsville Alabama Homes for Sale
It's about a relationship based on trust, knowledge and expertise and as our client, you can rest assured that we will do everything we can to make sure that your home buying or selling experience is a pleasant one. Give us a call today at (931) 433-4070 or email us with your specific inquiries, and let us know how we can best serve your Huntsville Alabama real estate needs!  
Map of Huntsville, Alabama
Contact Us
General Real Estate Services Office
1423 Huntsville Hwy Suites A & B
Fayetteville, TN 37334
Toll Free: 1-877-433-4070
Ph :931-433-4070
Fx: 931-433-4071
Property Preservation
We now offer cleaning services, foreclosure clean up and property repair of all sorts. We are licensed, insured. BBB certified and all our work is guaranteed.